Descripcion:
A wonderfuul forest, until the desapearing of the Air Pack. Now, its an old and evil wood, dark and deep, owned by the unknown creatures that ended with the Wind Pack.
...
Lifted my nose to the sky arched by trees, smelled weird; it was a smell that did not come from any member of our Pack.
Ruiko the alpha male of the Wind Pack, our Pack, recruited the rest of the males and went to investigate, they did never return...
The last I heard from my father and the other males who left that day were howls and growls of agony.
I curled up against my mother shaking and then the whole forest went silent.
Hold my breath, waiting to hear something that betrayed signs of life from my father.
Then I remember the most horrible sound I ever heard, were howls, but didn't came from my father, were screams of victory, deep, unearthly howls, howls from the being that would end with our race… and maybe with my life.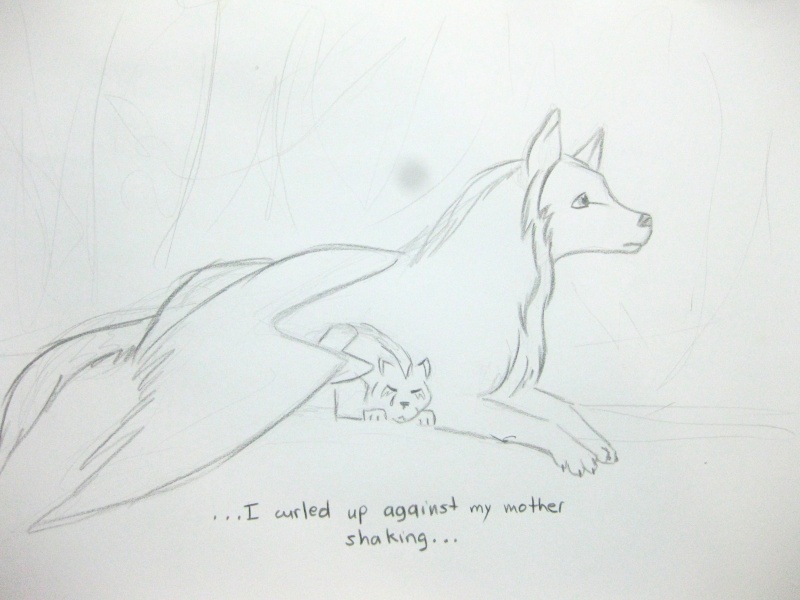 ...
The sounds of heavy steps came closer. Nobody moved, the remainings of the Pack ( Most children and females ) were nerveous. We couldnt leave the den, there where little cubs inside.
The creatures were here, i could see eyes moving arround..
The rest happened too fast. There was chaos, i couldnt see the creatures that were attaking us. Somebody pushed me accidentaly, I falled and hit my head, then im in white...
...
I remember a big headache. Blinked my eyes twice and then oppened them. I hope I had never done it.
I had fallen under two bushes so I draged to the outside.The sun was up in the sky, but no birds sang. I coul see the rests of what had been a big battle. Please dont make me tell details, believe me, it was horrible.
I dindnt even dare to move for a while, then I ran, I didnt care where to, I just ran...
One Year Later...
I dont know how, but Ive survive. 10 months living alone on the edge of the forest makes changes on you... I havn´t seen The Creatures, but I know they still live in the Mystical Forest, my old home...
I think i cant live here for ever, i know it sounds hard but.. I need to find a Pack.
...
Finally Zapphira started her trip to the other Pack territories. Ahead her, an unknown and unfair future, behind her, a lost home.